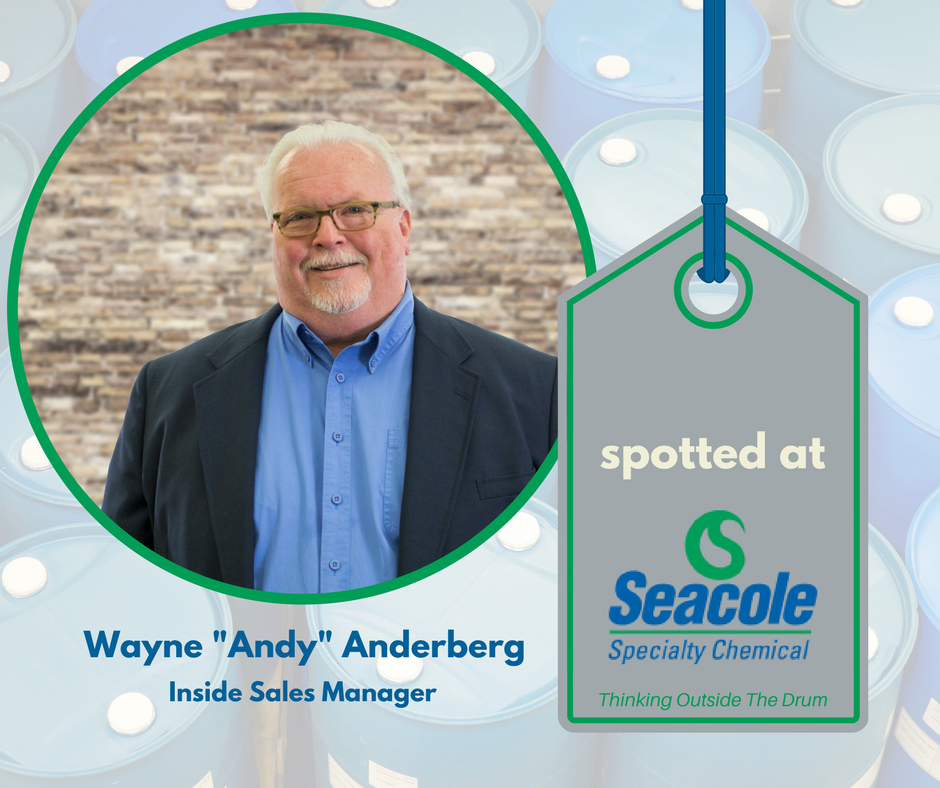 We had a chance this month to catch up with inside sales manager Wayne "Andy" Anderberg. Andy helps our customers find greener solutions to their industrial cleaning challenges. Take a moment to get to know Andy!
What is your role at Seacole?
I guess you would say that I am the senior (literally) member of the Seacole inside sales team. I provide technical information on many of our products and product training to new members of our sales staff. I am also deeply involved with private labeling and contract blending projects as well as maintaining business with many accounts that I had when I was in outside sales at Seacole.
What industrial cleaning industry trends are you seeing this year?
During my 11 years with Seacole, I have continued to see the industry move steadily toward the production and use of greener formulations for our customers. There has been a move away from the old days of degreasing with solvents and moving to safer and less expensive water-based degreasers, which in many cases are biodegradable.
What advice would you give people in your field?
Don't be complacent. Competitors are always looking for an opportunity to acquire the business you have with your clients. Remember to stay in touch and be visible with your customers, listen to their issues, and respond in a timely manner. Too many sales people are enthusiastic and sometimes spend so much time talking that they forget to listen. Also, stay positive: not every sales call turns into a sale.
What is your favorite Seacole product?
My favorite product would be our Spraydet 14EX powdered detergent, which is used in aqueous spray cabinet washers, for cleaning parts. Spraydet 14EX can be used in production cleaning of new manufactured parts, as well as in engine and transmission rebuilding. This is one of our top products, and I have worked with this since I started with the company, back in the C&H Chemical days. In my opinion, this is the finest product of its kind in our industry.
What might someone be surprised to know about Seacole?
Many people have mentioned that our name "Seacole" has something to do with the sea and being into green products. Actually, the company is named after owner Gregg Elliott's two children. It is a combination of both of their first names. I've always like that.
What's the first thing you do when you get to work?
Check my emails and phone messages, go over my notes, and check my calendar. Then probably eat my yogurt and granola bar.
Do you have a secret for staying productive?
Be organized and keep good records and notes, then make a plan and execute that plan. It's great to multi-task, but make sure you are taking your existing projects all the way to completion and not just performing a juggling act. Always be open to new products and ideas.
Before starting your career, what was the most unusual or interesting job you've ever had?
When I was 16 years old, my first real job was working as an usher at the old Metropolitan Stadium and Met Sports Center. I would take tickets and seat people for the Vikings, Twins and North Stars games. I gained a lot of confidence, being able to inform adults that they were sitting in the wrong seats and would have to move. I also ushered for concerts including Jimi Hendrix, Aretha Franklin, Janis Joplin, and Frank Sinatra.
What is something you can't live without?
My wife, my children and my friends. And I guess, air, water, and food.
Andy's Motto:
"Shower the people, you love with love, show them the way that you feel." James Taylor
Is that too sappy? 🙂