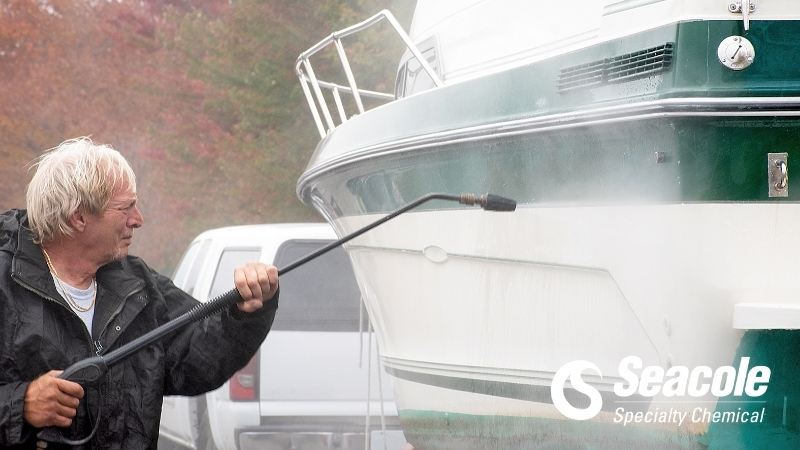 The boating season may be winding down, but for marinas and owners of large fleets, the boat winterization season is just getting started. With the right tools, marinas can cut labor and materials costs. A detergent specially formulated for boat hull cleaning can save time and effort so marinas can winterize more boats.
Water scale, slime, and algae are some of the most time-consuming contaminants to remove from boat hulls, especially when they have stained the fiberglass or wood finish. Many boat cleaning products remove one of these contaminants, but most detergents are not all-in-one solutions.
Seacole Boat Hull Cleaner Is Fast and Effective
Super-concentrated Boat Hull Cleaner can safely remove scale, slime, and algae in a single application. This allows cleaning crews to process more boats in less time and less effort. Simply spray the exterior of the boat hull, let the solution penetrate, scrub, and rinse away. A single pail can clean hundreds of boats.
Boat Hull Cleaner Performance Features
An acid-based, liquid detergent, Seacole Boat Hull Cleaner is safe for fiberglass or painted wood boat hull surfaces. The powerful formula removes surface contaminants as well as lime deposits, oxidation, waterline stains, and exhaust marks. Seacole Boat Hull Cleaner does not contain harmful phosphates that may contribute to algae blooms.
Marinas and owners of fleets can use Seacole Boat Hull Cleaner to make their winterization season more efficient and profitable. Contact the Seacole team today to learn more and place your order.