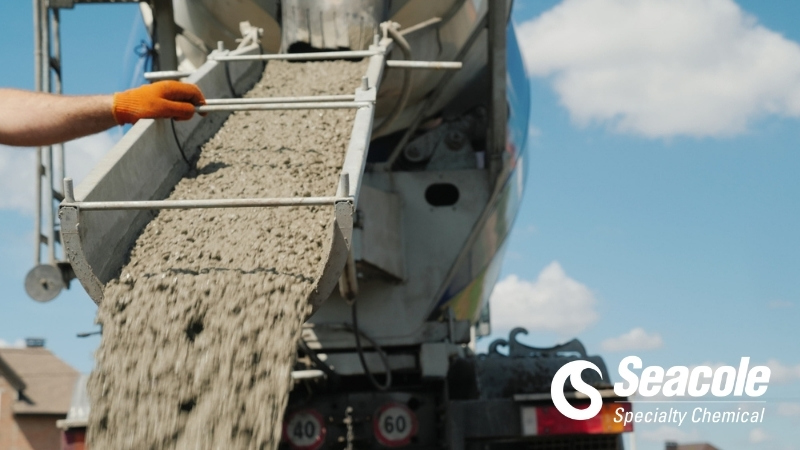 Hard water can create scale and fouling of concrete mixer water heater lines. With regular descaling, concrete operators can keep their equipment running efficiently through the colder months. Add Seacole's 864A Scale Control Agent and Hardness Handler to water heaters, heat exchangers, and transfer lines for continuous, maintenance-free scale inhibition this winter.
864A Prevents Hard Water Buildup
Over time, using hard water to mix concrete can cause scale and other residues to build up in water heaters, heat exchangers, and transfer lines. These contaminants slow down mixing and cause equipment to work harder to maintain an optimal product. Left unaddressed, scale can obstruct water lines and bring concrete production to a stand-still.
To prevent lost productivity and interruptions to project timelines, concrete mixing operations can use 864A Scale Control Agent and Hardness Handler. 864A uses a combination of synthetic and organic sequestrants to prevent scale and fouling on water heater and exchanger surfaces and within transfer lines. Regular use of 864A extends the production season, extends the life of concrete mixing equipment, and reduces fuel and cleaning costs.
864A Is Maintenance-Free and Easy to Use
864A is non-polluting with a very low toxicity. It does not contain zinc, chromates, or phosphates. The scale control agent is safe for employees and harmless to concrete mixes.
A super-concentrated liquid product, 864A requires no mixing and can be fed directly from the drum into water heater lines. This will move the product through the water heater system so the product can protect all surfaces. Most concrete operations find that one or two drums of 864A will keep their equipment working properly. Seacole also offers a PULSAtron pump and service kit to streamline installation and setup.
Extend your concrete operation's production season and the life of your equipment with 864A Scale Control Agent and Hardness Handler from Seacole. Contact the Seacole team today for more information or to order your product.