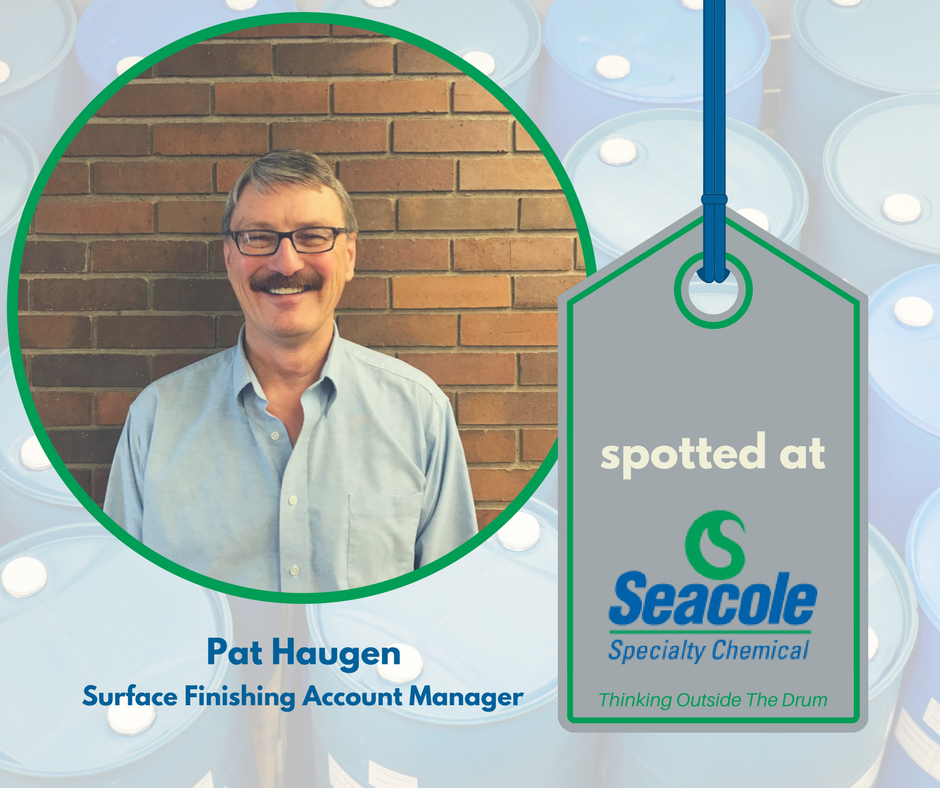 We had a chance this month to catch up with surface finishing account manager and newest Seacole employee Pat Haugen. Pat works with Seacole customers in Minnesota, Wisconsin, and Iowa. Take a moment to get to know Pat!
What is your role at Seacole?
I'm the surface finishing account manager for Minnesota, Wisconsin and Iowa.
What trends are you seeing this year?
Personally, I am looking for a good year to develop more business primarily in Wisconsin and Iowa. There is a lot of potential in plating, anodizing, and pre-paint well-suited for Seacole and our suppliers. Overall, the economy is heating up. I expect Seacole will have a good year.
What advice would you give people in your field?
Put yourself in your customers' or prospects' shoes and try to see yourself from their point of view. Listen to their concerns and look for where you can help. Be persistent; it takes time to earn trust.
What is your favorite Seacole product?
My favorite group of products would be electroless nickel. It is a complex process, and we have very good products with Metalchem.
What might someone be surprised to know about Seacole?
All the diverse things we do and do well.
What's the first thing you do when you get to work?
Get coffee! I like the coffee at Seacole: strong!
Do you have a secret for staying productive?
Have some method for staying on track. Write it down, make a list, prioritize your activities into what you can do now to influence the desired result. Don't get down, just start and it will happen.
Before starting your career, what was the most unusual or interesting job you've ever had?
I worked concrete construction of grain buildings one summer in college. It was hard work, but I really got in shape.
What is something you can't live without?
Family – all but especially my wife and grandkids.
Friends – both new and old but especially the old ones that know me the best.
Fun –Go Wild! Skol Vikings! Win Twins! And vacations to relax.
Pat's Motto:
Work hard and have fun. You only have one life to live; appreciate it.