Executive Summary
Seacole partnered with iDEAL Energies to install a 186.34kW DC solar array on their headquarters in Plymouth, Minnesota. The array of Jinko solar panels will produce approximately 30 percent of Seacole's total energy consumption in the first year. The cost of solar installations has been falling in Minnesota, making solar energy more accessible to companies like Seacole who are looking for ways to reduce their carbon footprint and improve their sustainability practices. 
The Minnesota Solar Market
Solar energy is a growing market in Minnesota. The state's 7,170 solar installations provide approximately 1.48 megawatts of power to residences, commercial buildings, and industrial facilities, ranking it 13th in the nation for investment in solar energy. Over the last five years, the price of solar installations has fallen 40 percent. 
Seacole Decides to Go Solar
Improving the sustainability of the company's energy source has been a long-time goal for Seacole leadership. Not only are the panels a good financial investment, they help the company reduce its carbon footprint. The array is just one of the ways Seacole is focusing its efforts on the future to build a stronger, more efficient organization to serve its customers. "At Seacole, we have a tradition of offering chemical products that are environmentally green and sustainable, and this was an opportunity to take the next step," said Gregg Elliott, President and CEO of Seacole. "It is one of our initiatives that makes sense from an environmental and financial standpoint. It's truly a win-win scenario." With their experience in commercial projects and turnkey service, Seacole partnered with iDEAL Energies to bring this vision to life. 
Choosing the Site 
After assessing all possibilities, iDEAL decided to install the solar panels on the rooftop of Seacole's manufacturing facility. A rooftop installation allows the panels to be out of public view while complying with all code requirements and the demands of the building's structure. Additionally, the Seacole facility has a white TPO roof, which reflects heat and will keep the solar panels cooler in the summer.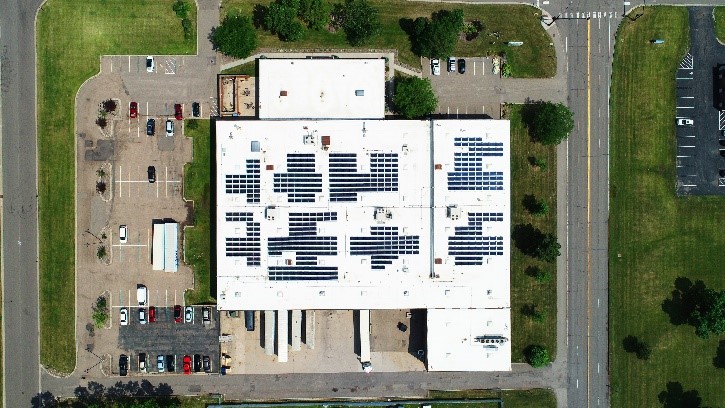 Choosing the Panels
Next, the iDEAL team designed Seacole's custom solar array. The system uses the site's available space to its fullest potential for maximum return on investment.
Choosing a high-quality solar panel product that would perform well no matter the weather conditions was important to Seacole. iDEAL selected the Jinko Cheetah 72M panels for the Seacole solar array. These panels are considered Bloomberg Tier 1, and Jinko is one of the world's leading manufacturers of high-quality solar products.
The Cheetah 72M panels feature a 5 busbar solar cell ideal for a rooftop installation. Advanced glass and a textured surface help the panels operate in low-light applications. They are also designed to withstand wind and snow, which is ideal for Minnesota summers and winters.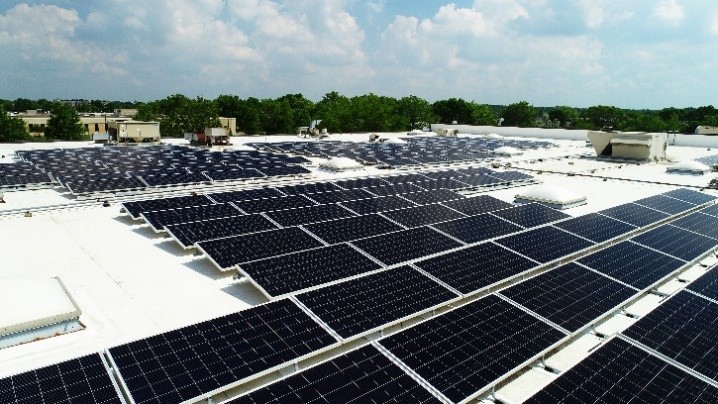 Mounting the Panels
The 186.34kW DC solar array of panels was mounted on the rooftop without any penetrations. iDEAL Energies used a ballasted mount to secure the panels, cementing the panels to concrete blocks that rest on the roof. Each block only puts 4-5 lbs/sq ft of pressure on the roof. A SolarEdge three-phase inverter efficiently and safely converts solar energy into usable electricity for Seacole headquarters. A wireless internet connection allows Seacole and iDEAL Energies to monitor the array's energy output in real time. The installation of Seacole's solar panels took approximately two months.
Results
Seacole predicts that each year, the solar array system will produce approximately 219 mWh, save up to 30 percent of their energy costs and eliminate 613,037 pounds of CO2 emissions. That's the equivalent of 15,440 trees planted.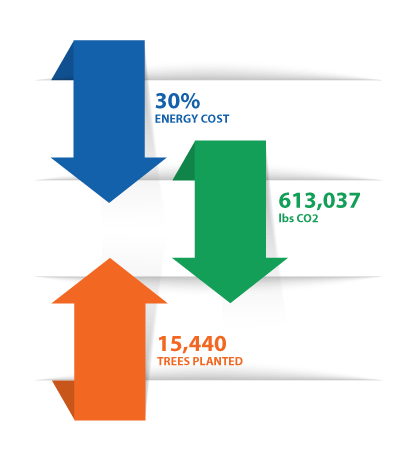 About Seacole
Headquartered in Plymouth, MN, Seacole is a chemical manufacturer and distributor of diversified products for a wide variety of global markets. A member of the National Association of Chemical Distributors, Seacole is ISO 9001:2015 certified and also offers contract chemical blending and private labeling services.
About iDEAL Energies
iDEAL Energies is a Minneapolis-based solar energy developer. The company has installed more than 300 commercial solar power systems for businesses, schools, and nonprofits. iDEAL manages the entire solar array installation process, from consultation and engineering to installation and system monitoring.