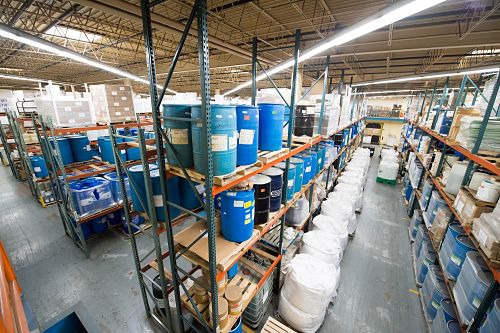 As a member of the National Association of Chemical Distributors (NACD), Seacole is committed to the safe warehousing and distribution of custom-blended chemicals. The distribution and warehousing teams at Seacole have the expertise to store your chemicals safely, saving your company valuable warehouse space at your facility.
Outsourced Custom-Blended Chemical Warehousing
Building a warehouse for chemical products is costly. In most cases, it is more cost-effective and efficient to outsource the warehousing of contract manufacturing chemical products. An expert team manages the Seacole warehouse according to industry best practices.
Once Seacole has formulated and packaged your custom solution, the warehouse team will store it until you need to fill an order. Then, the team will label and blind ship your items to you or your end user while meeting all shipping and handling requirements for your product. 
Responsible Distribution of Custom-Blended Chemicals
After your product leaves our facility, Seacole continues to follow the NACD's recommendations for Responsible Distribution. By adopting these best practices, Seacole reduces the chance of an accident or environmental incident.
The Responsible Distribution guidelines keep the Seacole team and the public safe. Seacole carriers are experts in the safe shipment of chemicals so you can be confident that your products will arrive at their end destination safely.
Contract manufacturing is a cost-effective solution for companies introducing a new product to the market or streamlining manufacturing operations. Responsible warehousing and distribution are just two steps in Seacole's ISO 9001:2015-certified contract manufacturing process. To learn more about the contract manufacturing process and how Seacole can save your company time and money, contact Seacole today.