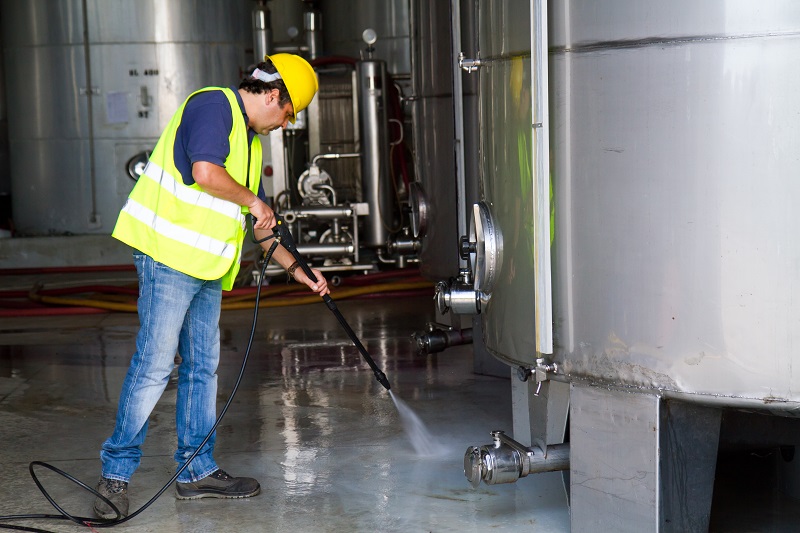 Seacole offers several water-based cleaners and degreasers for a wide variety of end applications, as well as a solvent-based cleaner for tougher soils. Contact the Seacole industrial cleaning experts to find the right product for your industrial cleaning and degreasing needs.  
147 General Purpose Liquid Cleaner
147 is an economical general cleaner for all hard surfaces. This butyl liquid cleaner can be used as a detergent and degreaser in high-pressure and low-pressure cleaning applications. 147 rinses freely, leaving behind a film-free, bright surface.
Evolution Heavy Equipment Liquid Detergent & Degreaser
Evolution is a highly alkaline liquid detergent and degreaser that attacks industrial grease, grime, and other soils. Use Evolution in high-pressure or low-pressure cleaning of floors, trucks, buses, tankers, farm vehicles, and anywhere else road film is present.
744 USDA A-8 Liquid Cleaner
744 USDA A-8 is a food-grade liquid cleaner for use in kitchens, food plants, and heavy-duty janitorial applications. It removes grease, food, crayon, pencil marks, and scuff marks from steel, brass, countertops, floors, walls, and most other hard surfaces. Use in a pressure washer to degrease and clean kitchen vent stacks and hoods.
Total General Purpose Liquid Detergent & Degreaser
Total is non-butyl, aluminum-safe formula that removes grease, grime, and other soils from hard-surface concrete floors, walls, industrial equipment, and locomotive rail cars.
Total B General Purpose Liquid Detergent & Degreaser
Total B is Seacole's most powerful multi-metal-safe, water-based detergent. Its non-butyl formula attacks grease, grime, and other soils from concrete, industrial equipment, and company vehicles. Use Total B as step two alkaline wash.
Break Liquid General Purpose Cleaner & Degreaser
Use this ready-to-use spray for general cleaning and degreasing. Break is effective on all hard surfaces and removes greases, oils, and inks as well as some aerosol and non-resistant enamel paints. Break is effective without scrubbing: just spray and wipe clean.
Solvent-Based 956 Plus Liquid General Purpose Cleaner
956 Plus is a multipurpose, solvent-based degreaser and coating remover that is safe on most surfaces. Spray, brush, or soak it on steel, copper, brass, aluminum, plastics, rubber, and painted surfaces. 956 Plus removes transit and cosmoline coatings, adhesives, tapes, and stenciling.
Contact the industrial cleaning experts at Seacole to find the cleaner and degreaser for your end application. Order products or call us for more information.