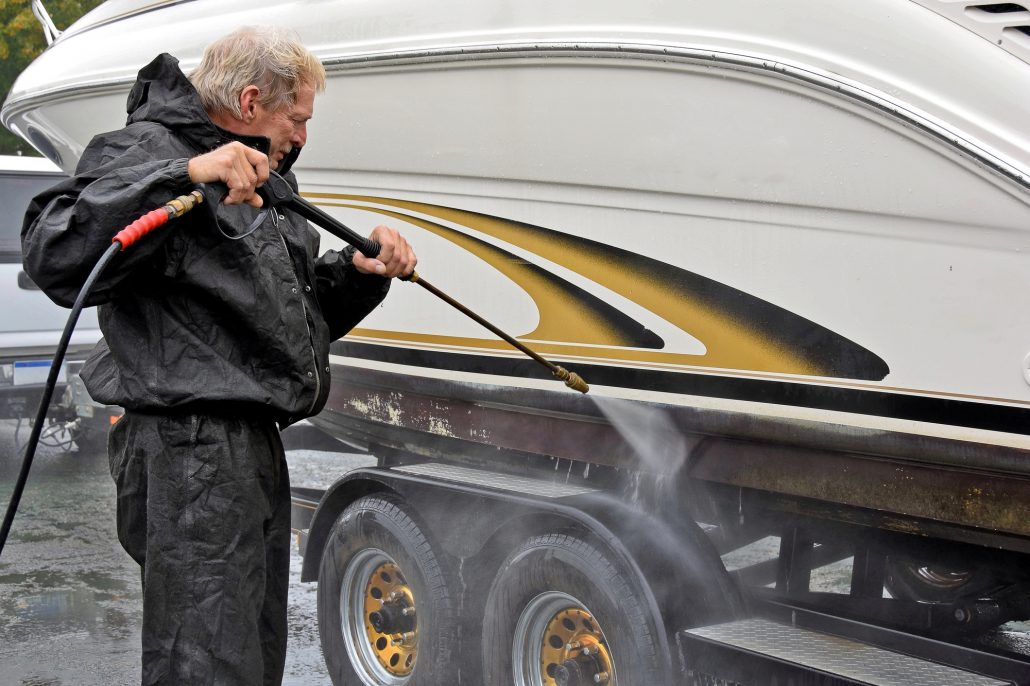 The boating season may be winding down, your boat cleaning company's busy season is just getting started. Without the right tools, cleaning your clients' boats can cost you thousands in extra labor and time. Here are four boat cleaning products for getting your clients' boats ready for winter storage that will save you time and labor and increase your profit margins:
99BH Boat Hull Cleaner removes water scale, slime, and algae all at once.
Water scale, slime, and algae are some of the most time-consuming contaminants to remove from boat hulls, especially when they've stained the fiberglass. There are plenty of boat cleaning products that can remove one of these contaminants, but they are not all-in-one solutions. And often, they are not safe for fish and other aquatic life.
A product that can safely remove scale, slime, and algae in a single application can cut down on the time it takes your staff to scrub a single boat hull so you can clean more boats in less time. Our favorite is 99BH Boat Hull Cleaner. Simply spray the exterior of your boat down, let the solution penetrate, scrub, and rinse away. It's safe for the environment and super concentrated so a single pail can clean hundreds of boat hulls.
BREAK spray is effective and safe for use on all interior surfaces.
Boat interiors can be very complicated—and time-consuming—to clean. They have multiple finishes that usually require separate cleaning products, from vinyl seats and plastic dashboards to teak decks and Plexiglass windshields. That's why cleaning boat interiors often slows your production way down.
But with the right product, you can clean all of these finishes with a single chemical, cutting down on the time and materials it takes to clean a single boat's interior. For interior grime, dirt, and even stained surfaces, we recommend Break, a degreaser and cleaner that comes in a handy spray bottle. Its powerful formula works hard so your staff spends less time scrubbing. Plus, it's water-based, so it's safe for your staff and the environment.
Bill's Bug Blaster blasts bugs from the windshields of speedboats and other craft.
It seems like no matter how hard they scrub, your staff has trouble removing those bug carcasses from boat hulls and windshields. All-purpose cleaners, degreasers, and soaps just don't cut it for bugs, even when there's an extra dose of elbow grease.
Instead, use a product developed specifically for blasting those bugs. Our favorite is Bill's Bug Blaster, which doesn't require any elbow grease (except in extreme cases) and is safe on Plexiglass and glass. Simply spray, let sit for a few minutes, rinse, and wipe dry. A word for the wise: don't let Bill's Bug Blaster dry on actual glass, since it can cause a film to form.
Fresh Again removes mildew smells.
Mildew smell is one of the hardest things to get rid of when you're winterizing boats. It seems like it doesn't matter how hard you scrub, vacuum, or steam clean—the odor remains. Usually, it's because mildew remains hidden in hard-to-reach places, including live wells.
With Fresh Again odor eliminator, all you need to do is spray and let the product fully dry. As it dries, the chemicals in the product react with the mold and mildew, eliminating the mildew odor. It's safe for both hard and soft surfaces. You can even add it to your carpet cleaning solution to clean and erase odors in a single application.
Choosing the right cleaning products for the right jobs can help you clean more boats in less time and with less elbow grease. When you choose the right chemicals, they work harder so you don't have to. To learn more about the different products that can make your boat winterizing operation more efficient and profitable, contact Seacole today.