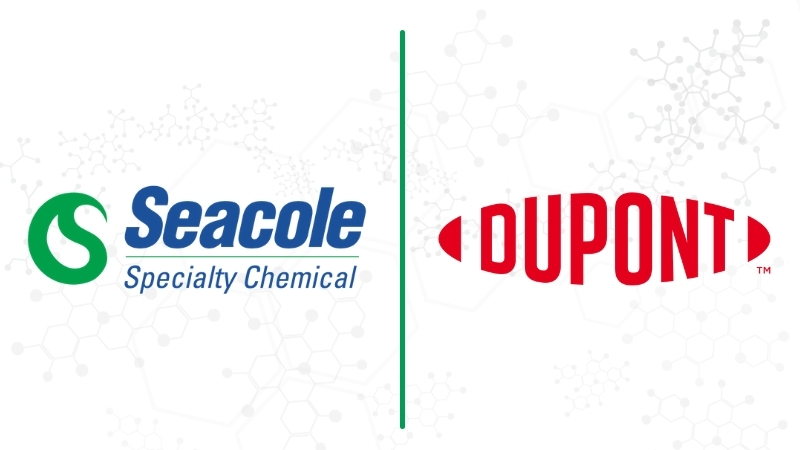 Did you know Seacole has a long-time partnership with leading chemical product manufacturer DuPont? An industry leader, DuPont is an industry leader in chemical manufacturing, developing high-performance, reliable, and effective chemistries for a wide range of end applications, including metal finishing processes.
Solderon™ MHW-W for Wire Plating
DuPont's Solderon™ MHS-W is a high-speed, non-foaming electroplating product for the rapid deposition of fine-grain, matte tin, and tin-lead alloy coatings from an organic sulfonate electrolyte. The product is designed for use in reel-to-reel wire plating equipment where foaming of the electrolyte is undesirable and can cause severe handling problems.
Solderon™ MHS-W is based on a biodegradable acid. It is non-foaming and non-fluoborate. Its excellent thickness distribution and alloy stability over a wide current density range enables highly achievable deposition rates.
Ronaclean™ E 950 LF for Wire Plating
Ronaclean™ E 950 LF is an economical, low-foaming, high-detergent alkaline cleaner specially designed for high-speed applications in printed circuit board manufacturing processes. It offers excellent primary cleaning of most metals due to its low-foaming and high detergency properties. Ronaclean™ E 950 LF is compatible with hard water and non-chelated for simple wastewater treatment.
Ronaclean™ 500 for Wire Plating
DuPont's Ronaclean™ 500 is a liquid alkaline cleaner designed to degrease and clean contaminated surfaces of iron, steel, copper, and copper alloys. It can be used as a soak cleaner or as an electrolytic degreaser capable of removing oils and lubricants, such as cutting fluids used in machining and metal forming.
Ronaclean™ 500 is ready for immediate use, with no need to dissolve salts. It will not cause particles to stick to tanks, pumps, or recuperators.
Solderon™ BHT-350 Bright Tin for Connector Plating
Solderon™ BHT-350 Bright Tin is a high-speed, sulphonate–based tin electroplating product formulated for continuous electroplating of wire and connector strip in reel-to-reel machines. Solderon™ BHT-350 Bright Tin electrolyte is free of volatile aldehydes and may be operated at temperatures up to 50°C.
By operating at high temperatures, Solderon™ BHT-350 Bright Tin enables high plating rates and reduces volume increase. It offers consistent and stable surface morphology with low carbon content in the deposit. This low-foaming electrolyte produces excellent brightness and solderability over a broad current density range.
Ronovel™ CM Cobalt-Alloyed Electrolytic Gold for Connector Plating
Ronovel™ CM Cobalt-Alloyed Electrolytic Gold utilizes a unique chelate system that prevents the oxidation of cobalt and substantially reduces the variation in cobalt co-deposition. By adjusting operating parameters, processes can be calibrated to suit different plating heads and cells.
Ronovel™ CM Cobalt-Alloyed Electrolytic Gold is designed for low- and high-speed plating applications, including reel-to-reel connector, stripe or strip, automatic printed circuit tab, deep tank circuit, and barrel plating. Ronovel™ CM Cobalt-Alloyed Electrolytic Gold should be used where a highly even thickness distribution across the plated part is desired.
To learn more about these and the other DuPont products available through Seacole, visit our website or contact the Seacole team today.