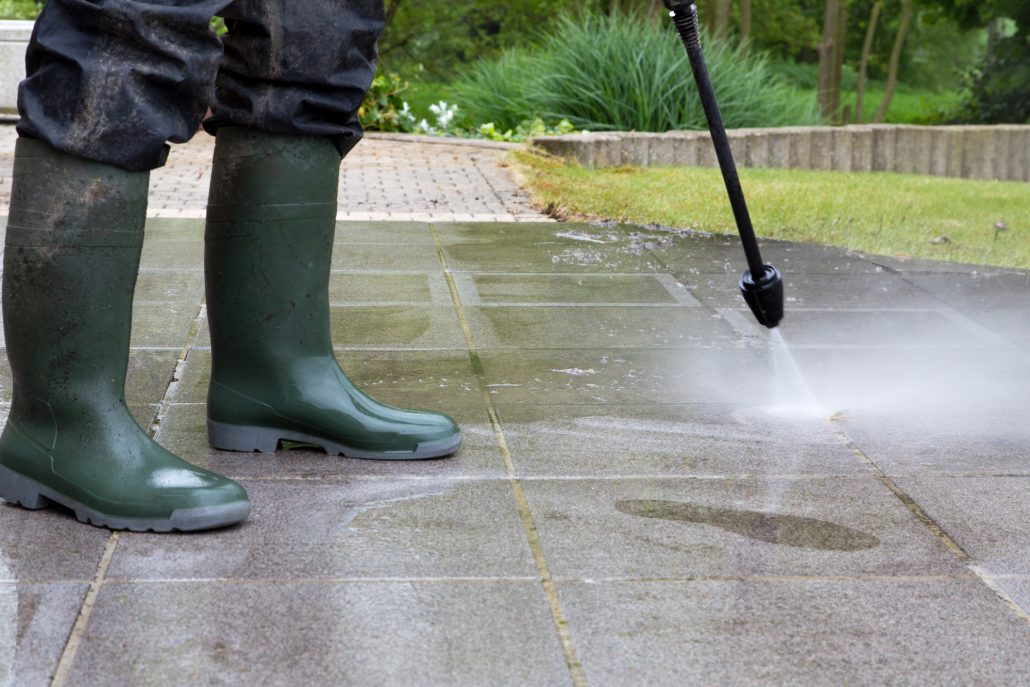 If you're a professional cleaning contractor, the best time to add new customers is right around the corner. Here are a few ways spring cleaning can help you add extra value for your customers—and revenue for your business!
Blast away parking lot grease and grime.
Commercial property owners want their properties to shine, too. Many reserve capital improvements for the warmer spring and summer months.
The exteriors of commercial businesses can benefit from a general pressure wash of its walls, driveways, and walkways. Pressure washing removes grime, grease, and hard water stains. It also prepares these surfaces for a fresh coat of paint or sealing. Sometimes, pressure washing can even replace the need to paint or resurface. Degreasers cut through grease and oil deposits from concrete drive-through lanes, parking lots, and gas station pump areas.
Offer to deep clean decks and patios.
What happens to deck and patio surfaces after several months of being buried under rotting leaves, snow, and ice?
At the very least, they look aged well beyond their years. But more often, the grime and gunk presents a major slip-and-fall hazard. Rotting leaves and melting snow and ice can make decks and patios very slippery. Hard water stains and organic soils can erode concrete and natural stone surfaces.
A proper cleaning removes the risk of slip-and-fall accidents. But it also protects deck and patio surfaces against rot and the growth of mold and algae. Pressure washing these areas will make any deck or patio look like new and extend its life. With the right equipment and products, you can serve several customers a day, adding to your list of loyal customers.
Scrub grills and BBQs.
Do your deck and patio customers have outdoor kitchens or at least a gas or charcoal grill? Spring is the perfect time to help them get their equipment ready for the grilling season.
Clean grill grates ensure food will taste great and protect cooks from greasy flare-up grill fires. Degreasers tackle tough grill and oven grease to make your customers' grills shine and prepare them for a season of cook-outs.
Spring's just around the corner. Seacole can help you get ready for a busy cleaning season. Contact us today to stock up on the industrial cleaning products you need.