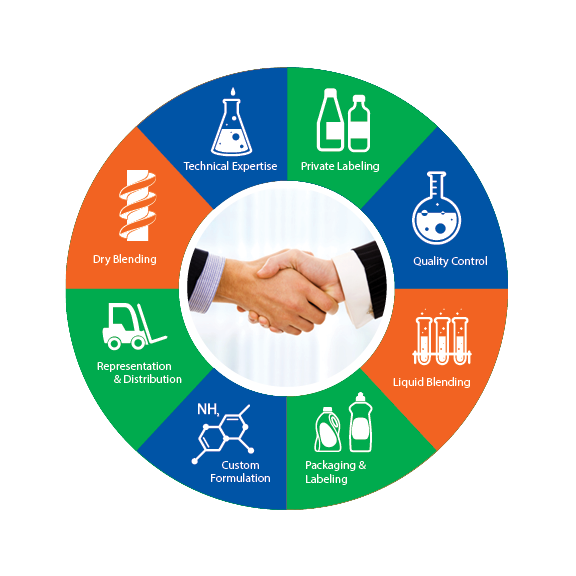 At Seacole, you always come first. The Seacole customer service team strives to provide every contract manufacturing customer with an exceptional experience. Our team members are experts in Seacole's custom blending capabilities and commit to following ISO standards to ensure efficiency and accuracy throughout the process. Here is what customers can expect when they choose to work with the Seacole contract manufacturing team.
Deep Knowledge of the Seacole Contract Manufacturing Process
Seacole provides custom blending services to meet customer needs across a wide range of end applications, from parts cleaning chemistries for the transportation industry to clean room floor soaps. This breadth of applications requires the Seacole team to have deep knowledge of Seacole's capabilities and the custom blending process.
Seacole's experienced technical team will guide you through the custom blending process to cost-effectively blend and package an existing product formula, modify an existing formula, or create an entirely new product. Our team members draw on their years of experience and technical expertise in more than 2,000 chemistries to meet the specifications of each project.
Compliant with ISO 9001:2015 Guidelines
Seacole complies with ISO 9001:2015 guidelines. These guidelines help us work more efficiently to reduce errors and provide an exceptional customer experience at every step of the custom blending process. The ISO guidelines affect all aspects of the Seacole customer experience, from communication to information gathering to providing a clear and accurate timeline for production and shipping.
Your Input at Every Step of the Process
As our valued customer, you are involved in every step of the Seacole contract manufacturing process. You will work with the Seacole team to discuss the needs of your project and offer feedback on the formulation our team proposes.
Once approved, the Seacole production and quality control teams put your formulation into production. You can choose to receive your products directly or have Seacole ship them directly to you. Once the process is complete, we encourage you to provide feedback on your experience working with Seacole. This helps ensure exceptional service for future projects. When trusting a custom formulation to a third-party manufacturer, it's important to work with an experienced team of experts who are committed to their customers' success. To discover how Seacole's contract manufacturing team could partner with your company, contact Seacole today.